As an Amazon Associate, I earn from qualifying purchases.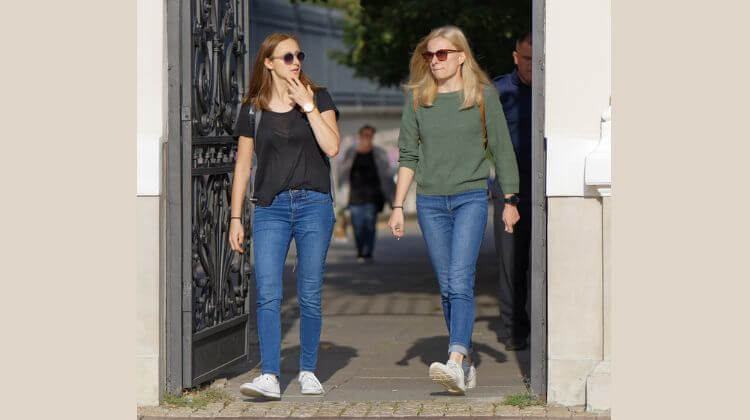 Jeans have long been a staple in everyone's wardrobe, but in recent years, two distinct styles have emerged and gained popularity: mom jeans and dad jeans. While both styles have unique characteristics and appeal, they cater to different fashion preferences and body types. This article explores the differences between mom-and-dad jeans, their popularity, styling tips, and more. So, let's dive in and discover the ultimate comparison guide for mom jeans versus dad jeans.
What are Mom's Jeans?
Definition and characteristics
Mom jeans are a style of high-waisted denim jeans that became popular in the 1990s. A relaxed fit, straight or tapered legs, and a waistline above the natural waist typically characterize them. Mom jeans often have a vintage-inspired look with features like a button fly, faded washes, and distressed details.
What are Dad's Jeans?
Definition and characteristics
As the name suggests, Dad jeans are a style associated with a more relaxed and casual look often worn by fathers. They are typically characterized by a looser fit, a medium- to low-rise waistline, and straight legs. Dad jeans often come in classic blue denim washes and may feature minimalistic details or a slightly worn-in appearance.
Difference Between Dad and Mom Jeans:
| | |
| --- | --- |
| | |
| | |
| | |
| | 69% Recycled Cotton, 30% Lyocell, 1% Elastane |
| | |
| | |
| With a hip-hugging high-rise and tapered leg | Straight leg jeans with a faded black wash |
| Made with a comfortable cotton-spandex blend | Low-stretch denim with a rigid '90s-inspired look |
| authentic 5 pocket styling | 5-pocket styling with a zip fly and button closure |
| | |
The Fit and Style Differences
Regarding fit and style, mom-and-dad jeans have distinct differences that set them apart.
Waistline and rise: Mom jeans are known for their high-waisted design, which sits above the natural waistline, accentuating the waist and creating a vintage-inspired silhouette. On the other hand, Dad jeans typically feature a medium to low-rise waistline, sitting closer to the hips for a more relaxed and casual look.
Leg shape and tapering: Mom jeans often have a straight or slightly tapered leg, providing a more fitted appearance throughout the portion. Dad jeans, however, tend to have a looser fit throughout the leg, offering a more relaxed and comfortable feel.
Overall silhouette: The overall silhouette of mom jeans is often more form-fitting and emphasizes the body's curves. Dad jeans, in contrast, have a more relaxed and boxy silhouette, prioritizing comfort over a figure-hugging fit.
Who Wears Mom Jeans?
Target audience and demographics: Women predominantly wear mom jeans, which have become popular across various age groups. Younger generations, particularly millennials and Gen Z, have embraced mom jeans as a fashion statement, appreciating their retro aesthetic and versatility.
Fashion Trends and Influencers: In recent years, mom jeans have been popularized by fashion influencers, celebrities, and social media platforms. They have become a staple in street-style fashion and are often paired with crop tops, oversized sweaters, or tucked-in shirts to create effortless and trendy looks.
Who Wears Dad Jeans?
Target audience and demographics: Dad jeans, as the name implies, are associated with men and are typically worn by individuals seeking a more relaxed and casual style. However, dad jeans have transcended gender boundaries, and women have also embraced this comfortable and laid-back denim option.
Fashion Trends and Influencers: Dad jeans have gained popularity through the rise of normcore fashion and the appreciation for minimalist and effortless looks. Influencers and celebrities often pair dad jeans with basic t-shirts, sneakers, and relaxed outerwear, creating an understated yet fashionable ensemble.
Comfort and Practicality
One of the critical factors in choosing between mom jeans and dad jeans is the comfort and practicality they offer.
Fabric and construction: Mom and Dad jeans are typically made from durable denim fabric, ensuring longevity and resilience. The fabric composition may vary, but a combination of cotton, spandex, or elastane is common to provide some stretch and flexibility.
Range of movement: Mom jeans often have a more fitted design, which slightly limits the range of movement. With their looser fit, dad jeans are a great option if you're looking for pants that allow for more movement. They offer flexibility and can be worn for various activities.
Versatility and styling options: Both mom jeans and dad jeans offer versatility when it comes to styling. Mom jeans can be dressed in a blouse and heels for a more polished look and a graphic tee for a casual ensemble. With their relaxed vibe, Dad jeans can be easily styled with a simple t-shirt and sneakers for an effortless everyday outfit.
Fashion and Styling Tips
Whether you choose mom jeans or dad jeans, here are some fashion and styling tips to help you make the most of your denim:
| | |
| --- | --- |
| | |
| 1. Pair mom jeans with a tucked-in t-shirt and a belt to define the waistline. | 1. Keep it casual by pairing dad jeans with a basic t-shirt and sneakers. |
| 2. Experiment with cropped or oversized sweaters for a cozy and trendy look. | 2. Roll up the cuffs of your dad's jeans for a relaxed and effortless look. |
| 3. Dress up mom jeans with a blazer and heels for a more polished outfit. | 3. Layer with a denim jacket or a flannel shirt for a rugged and masculine aesthetic. |
| 4. Add accessories like statement belts or layered necklaces to elevate your ensemble. | 4. Opt for neutral or earth-tone colors to maintain the laid-back vibe of dad jeans. |
| 5. Embrace the vintage-inspired vibe of mom jeans by opting for a distressed or light-wash pair. | 5. Balance the loose fit of dad jeans with a fitted or tailored top for a more polished appearance. |
Popularity and Cultural Impact
Mom and Dad jeans have had significant cultural impacts and gained popularity through various avenues.
Social media influence: Mom-and-dad jeans have gained popularity thanks to social media platforms such as Instagram and TikTok. Fashion influencers and everyday users showcase their outfits featuring these denim styles, inspiring others to adopt the trend.
Celebrity endorsements: Celebrities have also contributed to the popularity of mom jeans and dad jeans. Celebrities often spotted wearing these styles include the likes of Kendall Jenner, Gigi Hadid, Harry Styles, and David Beckham. Their fashion choices and endorsements have influenced their massive fan bases and propelled the trend even further.
Pros and Cons of Mom Jeans
Pros and Cons of Dad Jeans
Choosing the Right Jeans for You
When it comes to choosing between mom jeans and dad jeans, consider the following factors:
Body type considerations: Mom jeans tend to flatter those with an hourglass or pear-shaped body type, emphasizing the waistline and curves. With their looser fit, Dad jeans can be a more forgiving option for individuals with different body types, offering a relaxed and comfortable fit.
Personal style preferences: Your style plays a significant role in choosing between mom-and-dad jeans. Mom jeans might be the perfect choice if you prefer a more fitted and tailored look with a vintage-inspired aesthetic. However, if you lean towards a casual and laid-back style, dad jeans provide the comfort and relaxed vibe you seek.
Conclusion
Both styles offer unique characteristics and cater to different fashion preferences in the battle of mom jeans vs. dad jeans. Mom jeans boast a high-waisted, vintage-inspired look that accentuates the waistline, while dad jeans prioritize comfort with their relaxed fit and casual aesthetic. Choosing between the two depends on your body type, personal style, and the occasion you're dressing for. Ultimately, mom-and-dad jeans have become prominent staples in contemporary fashion, allowing individuals to express their individuality and embrace comfort without compromising style.