As an Amazon Associate, I earn from qualifying purchases.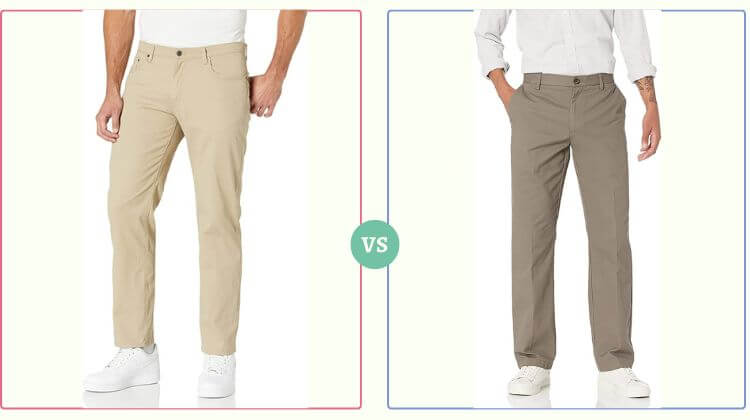 When choosing the perfect pair of pants, many are torn between different styles and options. Two popular choices that often confuse shoppers are 5 pocket pants and chinos. Although they may initially seem alike, there are notable distinctions between them. This article will thoroughly examine both styles, including their features, construction, and the most appropriate occasions to wear them. You'll clearly understand the contrasts between 5 pocket pants and chinos by the end.
Understanding 5 Pocket Pants
5 Pocket Pants, as the name suggests, are characterized by their five-pocket design. They typically feature two front pockets, two back pockets, and a small coin pocket within one of the front pockets. This pants style originated from jeans and is commonly associated with a casual and rugged aesthetic. 5 pocket pants are typically made from denim or other sturdy fabrics and are renowned for their durability.
Features of 5 Pocket Pants
Casual Style: 5 pocket pants are often considered an everyday wardrobe staple. They provide a relaxed and effortless look that suits various informal occasions.
Rugged Durability: 5-pocket pants are constructed with durability in mind due to their origins in jeans. The sturdy fabrics and reinforced stitching make them ideal for more strenuous activities.
Versatility: Although typically associated with casual wear, Pants with five pockets can be worn for both casual and formal events, depending on how they are styled. Pair them with a t-shirt for a laid-back style. For a more sophisticated appearance, pair them with a button-down shirt.
| | |
| --- | --- |
| | |
| | |
| | · 60% Cotton, 40% Polyester |
| | |
| . Fits with slight ease through the hip and thigh with a straight leg | · Straight fit chino features a straight leg with zip fly and button closure |
| · Soft, durable cotton blend with a gentle stretch | · Wrinkle-free and machine washable to wear straight from the dryer |
| | · Side slash pockets and double-welt back pockets |
| | |
Exploring Chinos
On the other hand, chinos offer a more refined and tailored option for those seeking versatile pants. Chinos are known for their clean and sophisticated appearance, making them suitable for casual and semi-formal occasions. These pants are often made from lightweight cotton twill fabric, giving them a soft and comfortable feel.
Features of Chinos
Classic Elegance: Chinos exudes timeless charm and sophistication. Their streamlined silhouette and tailored fit give them a dressier appearance than 5-pocket pants.
Comfortable Wear: Thanks to their lightweight and breathable fabric, chinos provide exceptional comfort even during warmer weather. They allow for easy movement and offer a relaxed feel.
Versatility: Chinos balance casual and formal attire, making them suitable for various occasions. They can be dressed in a blazer for a semi-formal look or a casual shirt for a more laid-back vibe.
The Key Differences
Now that we've discussed the basic features of 5 pocket pants and chinos let's highlight the key differences between the two styles.
Fabric and Construction
5 Pocket Pants: As mentioned earlier, 5 pocket pants are typically made from denim or other sturdy fabrics like canvas or twill. They are constructed with reinforced stitching and hardware, giving them a rugged appeal.
Chinos: Chinos, on the other hand, are made from lightweight cotton twill fabric. They are often garment-dyed for a softer texture and come in various colors, offering more versatility in styling options.
Style and Fit
5 Pocket Pants: These pants are associated with a looser fit, providing a more relaxed and casual appearance. They are often available in straight or slightly tapered leg cuts, catering to different body types.
Chinos: Chinos are tailored with a slimmer fit, providing a more refined and polished look. They come in various cuts, such as thin, straight, or relaxed, allowing individuals to choose a fit that suits their style and comfort.
Occasions and Dress Codes
5 Pocket Pants: Due to their casual and rugged nature, 5 pocket pants are best suited for informal gatherings, outdoor activities, or everyday workplace environments where a more relaxed dress code is acceptable.
Chinos: with their cleaner and more sophisticated aesthetic, Chinos can be dressed up or down to suit a broader range of occasions. When combined with the appropriate accessories, they are appropriate for casual outings, business-casual settings, and even semi-formal events.
Conclusion
In conclusion, the differences between 5-pocket pants and chinos are substantial. While both styles have unique qualities, understanding their features, fabrics, fits, and occasions can assist you in selecting the appropriate pair of pants for any specific situation. Whether you prefer the casual and rugged appeal of 5 pocket pants or the timeless elegance of chinos, your choice ultimately depends on your style, comfort, and the dress code of the event or environment you plan to wear them.
Remember, fashion is subjective and has no right or wrong answer. What matters most is finding pants that make you feel confident and comfortable. So, explore your options, experiment with different styles, and choose the pants that align with your individuality.