As an Amazon Associate, I earn from qualifying purchases.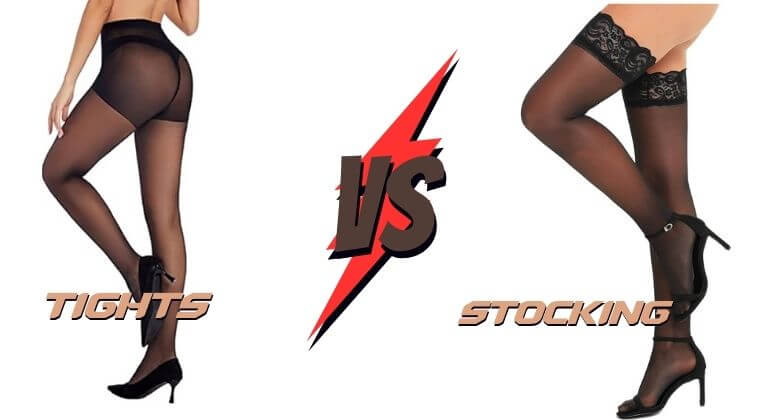 Legwear has come a long way from being just a functional accessory. In today's fashion world, including this particular element that adds a hint of sophistication to every ensemble has become crucial. Two popular choices in this realm are stockings and tights. While both serve similar purposes, they cater to different preferences and occasions.
Defining Stockings
Stockings are sheer, lightweight leg coverings, typically ending at the upper thigh. Garters or suspenders often hold them up and can add a sensual touch to your attire. Stockings come in various materials, including nylon, silk, and lace, and are an excellent option for those looking to highlight their legs while maintaining a hint of allure.
Understanding Tights
Conversely, tights are thicker and more opaque legwear that covers the entire leg, extending from the waist down to the toes. Tights provide more coverage and warmth than stockings, making them suitable for colder weather. Different colors, patterns, and materials are available for these items, which offer a range of styling choices.
Difference Between Tights and Stockings
| | |
| --- | --- |
| | |
| | |
| | |
| 86% Polyamide, 14% Elastane | |
| | |
| High stockings with a viscoelastic material | Ultra Thin Control Top Pantyhose |
| Incredibly soft and silky sheer leg | Classic Hosiery for Flawless Legs |
| Good choice for work, holidays, evening wear, and wedding. | Comfort and moisture-wicking, make you feel sexy and fresh all day. |
| 1 x Pair Women High Sheer Stockings | 3 Pack in Affordable Price |
| | |
Tights vs Stockings Pros and Cons
Stockings
Tights
When to Wear Stockings or Tights: Decoding the Rules
Stockings: Elevating Special Occasions
Stockings epitome elegance and charm, making them ideal for special occasions that call for a refined look. Consider wearing stockings when:
Attending a formal gala or ball
Celebrating an anniversary or romantic dinner
Dressing up for a theater show or opera
Embracing your sensuality during intimate moments
Tights: A Wardrobe Staple for Everyday Wear
Tights are versatile and can be added to your wardrobe and worn in various settings. Opt for tights when:
Going to work or business meetings
Running errands and staying active
Meeting friends for casual outings
Adding an extra layer of warmth during chilly days
Making the Right Choice
Choosing between stockings and tights ultimately depends on your personal style, comfort, and the occasion. Stockings might be the way to go for a romantic or formal look. Tights could be your best friend if you're seeking versatility and coverage. Keep the weather and your outfit in mind while making your decision.
Conclusion
In the world of legwear, stockings, and tights stand out as stylish and functional choices. Each has its unique attributes that cater to different preferences and situations. Whether you're aiming for elegance and sensuality or versatility and coverage, you have an option. So, next time you dress up, choose between stockings and tights to elevate your look confidently.
FAQs
Can I wear stockings in colder weather? Absolutely, but you should consider layering for warmth.
Are tights considered formal legwear? Tights can be casual and formal, depending on how you style them.
Do stockings always require garters? Not necessarily. Some modern stockings come with silicone bands to hold them up.
Can I wear tights with open-toe shoes? It's possible, but choosing the right style and color is key.
How can I prevent runs in stockings and tights? Opt for high-quality options and handle them gently while wearing and washing.