As an Amazon Associate, I earn from qualifying purchases.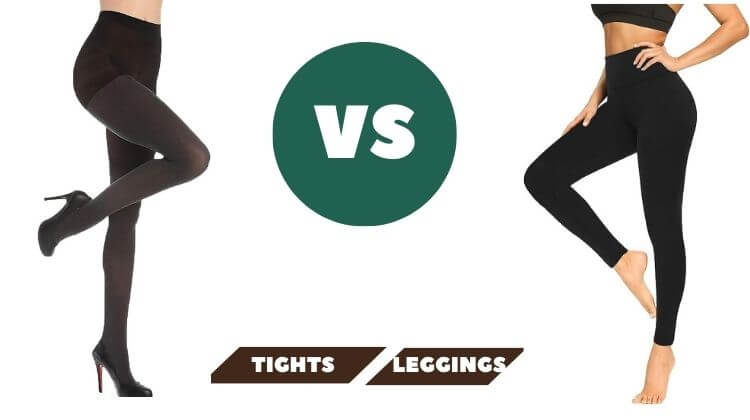 In the fashion world, every choice matters – from colors to fabrics and styles to fits. Leggings and tights are versatile pieces that can make or break an outfit. Understanding the nuances between leggings and tights is essential to create stylish and comfortable ensembles. Let's explore the unique attributes and when to opt for each.
What Does Legging Mean?
Leggings, often crafted from stretchy materials like cotton, spandex, or a blend of both, have become a staple in modern wardrobes. They provide a snug fit that accentuates body contours while offering exceptional comfort and flexibility. Whether you're hitting the gym, running errands, or lounging at home, leggings are your go-to option.
What Are Tights For?
On the other hand, tights are sheer, close-fitting leg coverings that provide warmth and a touch of elegance. Typically made from nylon or a nylon-spandex blend, tights come in various denier (thickness) levels, offering a range of opacity options. They're perfect for adding an extra layer or achieving a polished look during chilly weather.
Difference Between Running Tights and Leggings
| | |
| --- | --- |
| | |
| | |
| | |
| | |
| | Hand wash or machine wash |
| Ultra-Thin Control Top Pantyhose | The squat-proof interlink fabric |
| Run-Resistant & Supportive | |
| Breathable & Reinforced Sandal Toe | soft fabric offers contouring and gentle compression |
| Classic Hosiery for Flawless Legs | |
| | |
Why Choose Leggings?
Leggings offer a second-skin feel, making them ideal for various physical activities.
They come in many colors and designs, allowing you to create versatile outfits.
Leggings can be paired with oversized sweaters, tunics, or long shirts for a casual yet trendy look.
When opting for leggings, ensure they're not see-through by choosing thicker materials or darker colors.
Styling Tips for Leggings
For an athleisure look, pair leggings with a stylish sports bra, a loose tank, and sneakers.
Elevate your leggings with a long blazer, a statement belt, and ankle boots for a semi-formal ensemble.
Create a cozy winter outfit by layering leggings under a knit sweater dress and adding knee-high boots.
Why Choose Tights?
Tights offer more coverage than stockings, making them suitable for professional settings or formal events.
They come in a range of denier options, allowing you to choose between sheer and opaque looks.
You can pair tights with dresses, skirts, or shorts, expanding your clothing options throughout various seasons.
Experiment with patterns and textures, such as fishnet or cable-knit tights, to add a unique touch to your ensemble.
Pair black opaque tights with a mini skirt, a tucked-in blouse, and pumps for a classic office look.
Create a chic winter outfit by layering tights under a knee-length wool dress and adding a tailored coat.
Wear patterned tights with a bit of black dress and ankle booties to add a dash of flair for a night out.
Workout Tights vs Leggings: When to Choose?
Leggings vs Tights: FAQs
Q: Can tights be worn as pants? A: Tights are generally meant to be worn as something other than standalone pants. They are more suitable for layering under dresses, skirts, or shorts.
Q: Are leggings appropriate for work? A: Leggings can be appropriate for work, paired with longer tops or tunics that provide adequate coverage.
Q: Do tights come in different colors besides black? A: Tights come in a wide range of colors, allowing you to match or contrast them with your outfits.
Q: Are there tights designed explicitly for winter? A: Some tights are designed with thicker materials or fleece lining to provide extra warmth during colder months.
Q: Can I wear leggings with heels? A: Yes, leggings can be paired with heels to create a stylish and trendy look, especially when balanced with the right top.
Q: What's the key to preventing runs in tights? A: To prevent runs, be cautious when putting on tights, trim your nails, and consider using clear nail polish on minor snags.
Conclusion
In the eternal debate of leggings vs. tights, both have their place in fashion. Leggings offer unparalleled comfort and versatility, while tights exude elegance and sophistication. By understanding the unique features and styling tips for each, you can confidently navigate any outfit choice. Leggings and tights are versatile wardrobe staples for any occasion.