As an Amazon Associate, I earn from qualifying purchases.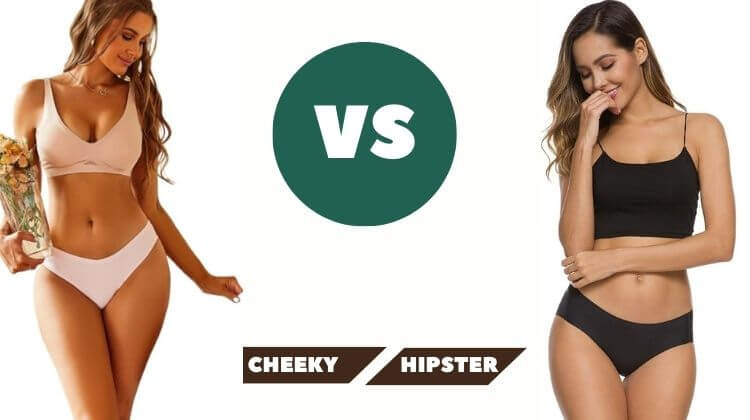 Regarding underwear, there's more to consider than just comfort. Your style can impact your confidence, fashion choices, and even how your outerwear fits. Among the array of options, cheeky and hipster underwear stand out as popular choices. This comprehensive guide will delve into the cheeky vs. hipster underwear debate, highlighting their distinctions, benefits, and which aligns best with your preferences.
Cheeky vs Hipster Panties: Understanding
Let's begin by understanding the key differences between cheeky and hipster underwear.
Cheeky Underwear
This style provides moderate coverage while revealing more of your derriere than traditional options. The back of cheeky underwear typically showcases a semi-circular cut that enhances your curves and adds a playful touch. If you're looking to add a dash of allure to your lingerie collection, cheeky underwear might be your go-to choice.
Hipster Underwear
On the other side of the spectrum, we have hipster underwear, known for its practicality and comfort. Hipster underwear offers full coverage both in the front and at the back. The waistband sits on the hips, hence the name, providing a snug fit that stays put throughout the day.
Difference Between Cheeky and Hipster:
| | | |
| --- | --- | --- |
| | | |
| | | |
| | | |
| | Moderate coverage at the back | More coverage with wider leg openings |
| | | Rests comfortably on the hips |
| | Playful, bold, and flirty | Versatile, comfortable, and suitable for everyday wear |
| | | |
Cheeky Brief vs Hipster: Exploring the Pros and Cons
Let's weigh the pros and cons of both cheeky and hipster underwear styles.
Cheeky Underwear: Pros and Cons
Hipster Underwear: Pros and Cons
Choosing Based on Your Body Type
Both cheeky and hipster underwear can complement different body types. Here's how to decide which one suits you best.
Hourglass Figure: Embrace your curves with cheeky underwear accentuating your well-proportioned hips and bust.
Pear Shape: Opt for hipster underwear to balance your figure and avoid emphasizing your hips.
Athletic Build: Cheeky underwear can add curves to your silhouette, while hipster underwear offers a comfortable fit.
Apple Shape: Hipster underwear provides coverage and support, helping you feel confident.
Cheeky Panties vs Hipster: Factors to Consider
Choosing between cheeky and hipster underwear also involves considering various factors.
Style Preferences: Your style plays a crucial role. Are you more drawn to flirty and daring looks, or do you prefer a classic and practical approach?
Comfort Level: Prioritize your comfort. Hipster underwear might be the better option if you find cheeky underwear uncomfortable due to the cut.
Outfit Choice: Think about the type of outfits you usually wear. Cheeky underwear works well with dresses or skirts, while hipster underwear is seamless under jeans.
Occasion: Consider the occasion you're dressing for. Cheeky underwear adds a touch of excitement to memorable moments, while hipster underwear is a reliable choice for everyday wear.
Hipster vs Cheeky Underwear: FAQs
Can I wear cheeky underwear daily?
Absolutely! Cheeky underwear can provide both comfort and style for your daily activities.
Will hipster underwear show panty lines?
Hipster underwear is designed to stay hidden under most clothing, minimizing panty lines.
Can I find cheeky and hipster underwear in sustainable fabrics?
Yes, many brands offer eco-friendly options in both cheeky and hipster styles.
Are there specific brands known for their cheeky underwear?
Yes, brands like [Brand Name] and [Another Brand Name] offer various cheeky underwear in various designs.
Can I wear hipster underwear during workouts?
Certainly! Hipster underwear's secure fit makes it suitable for workouts and active lifestyles.
How can I prevent cheeky underwear from riding up?
Choosing the right size is crucial. Additionally, opting for underwear with silicone grips can help prevent riding up.
Hipster Panties vs Cheeky: Conclusion
When it comes to cheeky vs. hipster underwear, the choice ultimately boils down to your personal preferences and needs. Whether seeking a playful addition to your lingerie collection or an everyday comfort staple, both styles offer unique benefits. Embrace the versatility and variety these underwear styles bring to your wardrobe, ensuring you feel confident and comfortable in every situation.