As an Amazon Associate, I earn from qualifying purchases.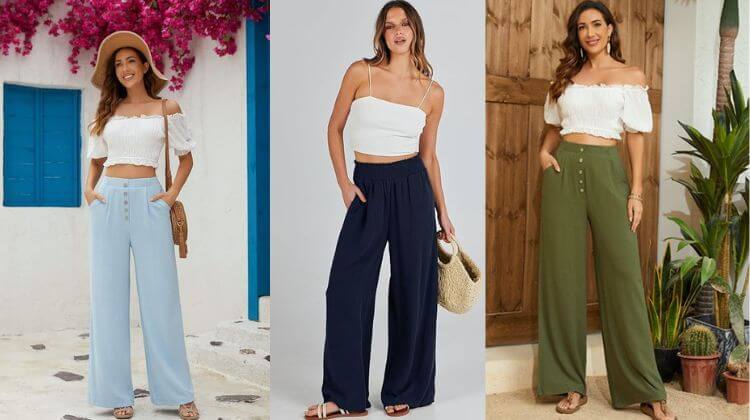 When the warm weather arrives, it's time to ditch those restrictive jeans and embrace the comfort and style of wide-legged linen pants. These breezy and versatile bottoms are a must-have for your summer wardrobe. However, figuring out what to pair them with can sometimes be a fashion challenge. Don't worry, though! In this article, we'll guide you through the art of styling wide-legged linen pants and creating fashionable outfits that are both chic and comfortable.
What to Wear with Wide Legged Pants
1. The Classic White Tee
A timeless combination that never fails is pairing your wide-legged linen pants with a simple and crisp white tee. The effortless elegance of this look can take you from casual outings to more dressy events with just a few accessory changes.
2. Chic Blouses for a Polished Look
Elevate your style by combining your wide-legged linen pants with a chic blouse. Opt for blouses with exciting patterns, ruffles, or unique necklines to add a touch of sophistication to your ensemble.
3. Denim Jackets: Perfect for Layering
For those cooler summer evenings or air-conditioned indoor spaces, a denim jacket can be a fantastic addition to your wide-legged linen pants outfit. The contrast between the structured denim and the flowing linen creates a visually appealing balance.
4. Crop Tops for a Modern Twist
If you want to show off some skin and create a modern and trendy look, pair your wide-legged linen pants with a cute crop top. This combination is perfect for beach outings or casual brunches with friends.
5. Tie-Front Tops
Incorporating tie-front tops is an excellent method to infuse your outfit with a hint of bohemian style. When paired with wide-legged linen pants, this combination exudes a carefree and relaxed vibe, making it perfect for outdoor gatherings and music festivals.
6. Statement Accessories
Accessorizing is vital when styling any outfit, and wide-legged linen pants are no exception. Bold statement necklaces, oversized hats, and stylish sunglasses can instantly elevate your look and make it more eye-catching.
7. The Versatility of Kimonos
Kimonos are lightweight and stylish, making them an ideal layering piece for wide-legged linen pants. Whether you opt for floral prints or solid colors, kimonos add a touch of elegance and movement to your outfit.
8. Belts to Accentuate the Waist
Consider adding a belt to your wide-legged linen pants outfit to create a more defined silhouette and accentuate your waist. This accessory can transform a relaxed look into a more structured and polished ensemble.
9. Shoes: Finding the Perfect Pair
Choosing the proper footwear is crucial to completing your wide-legged linen pants outfit. Strappy sandals, wedge heels, or chic loafers can complement these pants, depending on the occasion and your style.
10. Mixing Prints and Colors
Feel free to experiment with mixing prints and colors. While wide-legged linen pants offer a neutral and versatile base, adding colorful or patterned tops can create a playful and fashionable ensemble.
11. Layering with Vests
Vests can add a touch of sophistication and uniqueness to your outfit. Opting for a structured or flowy vest can instantly upgrade your wide-legged linen pants look.
12. Off-Shoulder Tops for a Romantic Look
Pair your wide-legged linen pants with an off-shoulder top for a romantic and feminine vibe. This pairing is ideal for romantic evenings or memorable events.
13. Maximize Comfort with Oversized Sweaters
If transitioning from summer to fall, layering your wide-legged linen pants with oversized sweaters can keep you cozy and stylish during the cooler months.
14. Accessorize with a Floppy Hat
A floppy hat is a practical accessory for shielding yourself from the sun and a stylish addition to your wide-legged linen pants outfit, especially for beach days or picnics.
Conclusion
Wide-legged linen pants are a versatile and comfortable option for warm-weather fashion. Mixing and matching different tops, layering pieces, and accessories allows you to create countless stylish outfits suitable for various occasions.
FAQs
1. Are wide-legged linen pants suitable for all body types?
Absolutely! Wide-legged linen pants are incredibly flattering and can complement various body shapes and sizes. They provide a flowy silhouette that adds comfort and style to any look.
2. Can I wear wide-legged linen pants in a professional setting?
Yes, you can! To make wide-legged linen pants appropriate for a professional environment, pair them with a tailored blazer and a tucked-in blouse for a polished, business-friendly outfit.
3. What footwear works best with wide-legged linen pants?
Strappy sandals, wedges, and heels are excellent choices for a dressier look, while flat sandals or sneakers can create a more casual and comfortable ensemble.
4. How do I care for my wide-legged linen pants?
If you want to take care of your linen fabric, it is recommended that you either hand wash it or use a gentle machine cycle with cold water. This is because linen is a delicate material. Avoid using harsh detergents and opt for air-drying to maintain the quality of your pants.
5. Can I wear wide-legged linen pants in the winter?
Yes, you can! Layer your wide-legged linen pants with cozy sweaters, cardigans, and boots in colder weather for a chic and warm outfit.