As an Amazon Associate, I earn from qualifying purchases.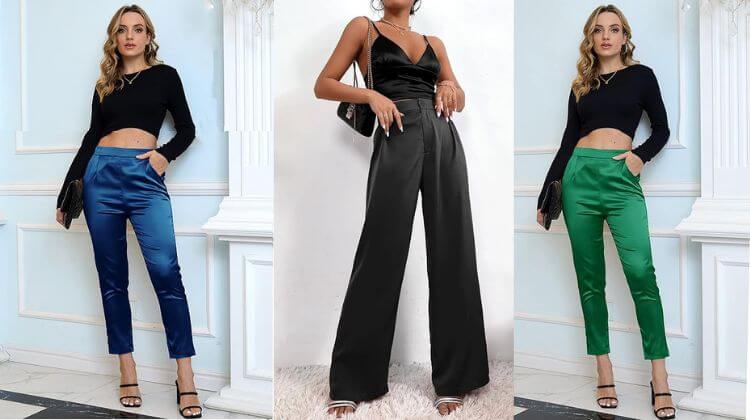 Satin pants are a versatile and luxurious addition to any wardrobe. Whether dressing up for a special occasion or aiming for a chic and sophisticated everyday look, satin pants can instantly elevate your outfit. This article explores styling tips and outfit ideas to help you rock your satin pants confidently and with flair.
How to Wear Satin Pants
1. Embrace the Elegance: Pair with a Classic Blouse
To achieve a timeless and elegant look, pair a classic blouse with your satin pants. A crisp white button-down shirt or a flowy silk blouse can complement the smooth and lustrous texture of the pants. Tuck the blouse in for a polished appearance, and accessorize with statement jewelry for a touch of glam.
2. Effortless Chic: Satin Pants with a Graphic Tee
For an edgy and effortlessly chic ensemble, contrast the sophistication of satin pants with a graphic tee. This unexpected combination adds a touch of playfulness to your outfit. Choose a tee with a fun print or a bold slogan, and complete the look with a leather jacket and sneakers for the ideal combination of style and comfort.
3. The Power of Monochrome: Monochromatic Outfit
Create a head-turning monochromatic look by pairing satin pants with a top in the same color family. This monochrome outfit creates the illusion of length and makes you appear taller. Add a belt in a contrasting shade to accentuate your waist and define your silhouette to break the monotony.
4. Casual Cool: Satin Pants with a Denim Jacket
Combining satin pants with a denim jacket strikes a balance between casual and sophisticated. This mix of textures creates an eye-catching ensemble. Roll up the denim jacket's sleeves for a relaxed vibe, and complete the outfit with ankle boots or strappy sandals for a versatile look that can transition from day to night.
5. Allure of Lace: Lace Top and Satin Pants
Enhance the luxurious appeal of satin pants by pairing them with a lace top. This combination exudes femininity and sophistication. Opt for a lace top with delicate details or an intricate pattern to elevate the overall look. Complete the outfit with heels and minimal accessories for a refined and charming appearance.
6. Bold and Bright: Colorful Satin Pants
Step out of traditional fashion norms and experiment with bold and colorful satin pants. Vibrant shades like emerald green, ruby red, or sapphire blue can make a powerful style statement. Pair these pants with a neutral-colored top to let the pants take center stage and create a striking visual impact.
7. Casual Glam: Crop Top and High-Waisted Satin Pants
Team up high-waisted satin pants with a chic crop top for a modern and trendy outfit. This combination accentuates your waist and elongates your legs. Finish the ensemble with striking earrings and heels, perfect for a night out with friends or a special event.
8. Layered Look: Satin Pants with a Trench Coat
Transition your satin pants into the colder seasons by layering them with a trench coat. The lightweight and smooth texture of satin complements the structure of a trench coat perfectly. Opt for a neutral-colored trench coat for a classic touch, and add a cozy scarf to stay warm and stylish during chilly days.
9. Effortless Boho: Flowy Top and Satin Pants
Achieve a bohemian-inspired look by pairing your satin pants with a flowy, printed top. Choose tops with floral patterns or intricate designs to embrace the boho aesthetic. Complete the outfit with chunky jewelry and suede ankle boots for a carefree and relaxed vibe.
10. Business Chic: Blazer and Satin Pants
Team up your satin pants with a well-tailored blazer for a sophisticated and polished office ensemble. This combination exudes confidence and professionalism. Choose neutral colors such as black, navy, or gray for a classic and timeless look. Pair the outfit with pointed-toe pumps for an added touch of elegance.
Conclusion
Satin pants offer many stylish possibilities, from casual to elegant. You can create outfits that reflect your style and make a fashion statement by experimenting with various combinations and textures. Embrace the versatility of satin pants and let them become a staple in your wardrobe for any occasion.
FAQs
1. Are satin pants suitable for formal events?
Absolutely! Satin pants can be dressed up for formal events by pairing them with a classic blouse, elegant heels, and statement accessories.
2. Can I wear satin pants in the daytime?
Yes, you can wear satin pants during the daytime. Consider pairing them with a graphic tee or a flowy top and stylish sneakers to create a casual daytime look.
3. How do I care for satin pants?
Hand-washing them in cold water or using a gentle cycle in the washing machine to care for satin pants. Avoid harsh detergents and never wring the pants; gently Squeeze out the excess water and put them flat to dry.
4. Can I wear satin pants to the office?
Yes, satin pants can be worn to the office. Pair them with a well-tailored blazer and a blouse for a chic and professional look.
5. What shoes should I wear with satin pants?
The shoes you wear are determined by the event and the appearance you wish to achieve. Heels, ankle boots, and strappy sandals complement satin pants beautifully.