As an Amazon Associate, I earn from qualifying purchases.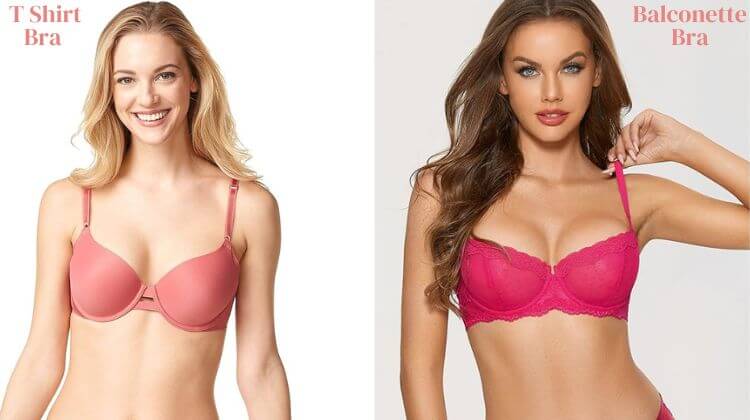 When choosing the right bra, comfort and style are paramount. Two popular options that often raise questions are balconette bras and t-shirt bras. Each has its unique features, advantages, and potential drawbacks. In this article, we delve into the world of bras, comparing the balconette and t-shirt styles. We'll break down their design, support, versatility, and more, so you can make an informed choice that caters to your preferences.
Balconette vs T Shirt Bra: A Detailed Comparison
Balconette Bras: Lifting Elegance
This bra offers a timeless blend of sophistication and support. Their characteristic low-cut cups expose more of the upper chest, creating a flattering and lifted look. These bras are often adorned with intricate lace and delicate detailing, making them a favorite among those seeking elegance and sensuality.
Design and Construction
Balconette bras are meticulously crafted to provide lift and a rounded shape to the bust. The cups are cut horizontally, revealing the upper portion of the breasts. The wide-set straps and underwire provide ample support, enhancing the natural curvature of the bust.
Pros:
Lifts and enhances cleavage
Suitable for a variety of necklines
Creates a youthful silhouette
gives any look a splash of glitz
Cons:
May not offer full coverage for larger busts
Less discretion under tight-fitting clothes
T-Shirt Bras: Seamless Comfort
T-shirt bras, on the other hand, prioritize seamless comfort and versatility. These bras are designed with smooth, molded cups, which are ideal for wearing under tight or thin fabrics. They provide a natural shape while maintaining a discreet profile, making them a staple for everyday wear.
Design and Construction
T-shirt bras are all about invisibility under clothing. Their seamless design and lightly padded cups ensure no visible lines or texture, even under the thinnest tops. The straps are typically set closer together to accommodate various necklines.
Pros:
Offers a smooth and natural look under clothes
Suitable for casual and formal wear
Comfortable for extended periods
Available in various colors and styles
Cons:
It may not provide as much lift as balconette bras
Minimal embellishments for those seeking intricate designs
Finding Your Perfect Fit: Expert Tips
Consider Your Outfit
Balconette vs. T-Shirt Bra: Your choice should complement the outfit you plan to wear. These bras shine with low-cut or square-neck tops, while t-shirt bras excel under form-fitting and thin fabrics.
Assess Your Bust Size
Balconette vs. T-Shirt Bra: Balconette bras are ideal for smaller to medium-sized busts, providing lift and a fuller appearance. T-shirt bras are suitable for a broader range of sizes, offering a smooth and natural shape.
Prioritize Comfort
Balconette vs. T-Shirt Bra: If comfort is your top priority, opt for a t-shirt bra with its seamless design and minimal padding. However, if you want a touch of glamour, balconette bras are a stylish choice.
Explore Versatility
Balconette vs. T-Shirt Bra: If you're looking for a versatile option that works for various occasions, a t-shirt bra is your go-to. Consider a balconette bra for special occasions or when you want to exude confidence.
Know Your Style Preferences
Balconette vs. T-Shirt Bra: Your style plays a role. If you love intricate lace and detailing, balconette bras are perfect. For a clean and streamlined look, t-shirt bras are a better fit.
Frequently Asked Questions (FAQs)
Q: Can I wear a balconette bra with a plunging neckline? A: Absolutely! Balconette bras provide lift and enhance cleavage, making them an excellent choice for plunging necklines.
Q: Are t-shirt bras only available in neutral colors? A: Not at all! While neutral colors are standard for seamless wear, t-shirt bras come in a variety of shades and even patterns.
Q: Do balconette bras provide enough support for larger busts? A: Balconette bras offer support but may provide less coverage for larger busts than other styles.
Q: Can I wear a T-shirt bra under a sheer blouse? A: Yes, you can. T-shirt bras are designed to be discreet under all types of clothing, including sheer tops.
Q: Are balconette bras uncomfortable due to their underwire? A: When properly fitted, balconette bras can be comfortable and offer good support, thanks to their underwire construction.
Conclusion:
Choosing between a balconette and a t-shirt bra ultimately depends on your preferences and needs. Balconette bras add a touch of glamour and lift, while t-shirt bras prioritize seamless comfort and versatility. By considering your outfit, bust size, comfort level, and style preferences, you can confidently decide which bra style aligns with your lifestyle. Whether you opt for the elegant balconette or the understated comfort of a t-shirt bra, the key is to feel confident and comfortable in whatever you choose.