As an Amazon Associate, I earn from qualifying purchases.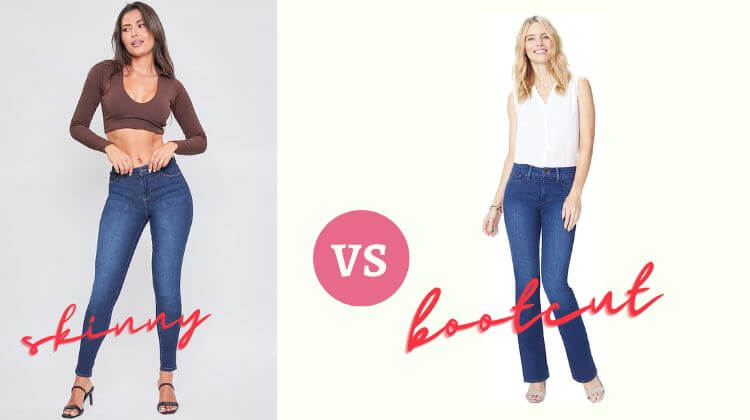 Regarding denim, two popular styles that dominate the fashion industry are bootcut jeans and skinny jeans. Each style offers a unique fit and appeal, catering to different body types and fashion preferences. This article will explore the characteristics, pros, and cons of bootcut and skinny jeans, helping you decide when choosing the right fit for your wardrobe.
Understanding Bootcut Jeans
What are Bootcut Jeans?
Bootcut jeans are characterized by their fitted waist and hips, gradually widening from the knees to the hem. The slight flare at the bottom allows enough room to accommodate boots, hence the "bootcut." This style was popularized in the 1970s and has since become a timeless classic in denim.
Styling Tips for Bootcut Jeans
Pair with heeled boots or wedges for an elongating effect
Opt for a mid-rise or high-rise waist for a flattering fit.
Style with flowy tops or blouses for a bohemian look
Balance the flare with fitted or tailored tops.
Experiment with different washes and finishes to suit your style
The Versatility of Skinny Jeans
What are Skinny Jeans?
Skinny jeans are known for their form-fitting silhouette, hugging the legs from the waist to the ankle. This style gained popularity in the early 2000s and has become a casual and contemporary fashion staple. Skinny jeans offer a sleek, streamlined look that effortlessly pairs with various tops and shoes.
Styling Tips for Skinny Jeans
Pair with ankle boots or sneakers for a casual vibe
Tuck in a blouse or shirt for a polished look.
Layer with oversized sweaters or jackets for a cozy ensemble
Choose skinny high-rise jeans for added support and coverage
Experiment with different colors and washes to suit your style
Features of Bootcut Jeans and Skinny Jeans
| | |
| --- | --- |
| | |
| | |
| | |
| | 1. Fitted and snug throughout the legs |
| 2. The flared leg from the knees to the hem | 2. Tapered from the thighs to the ankle |
| 3. Comfortable and relaxed fit through the thighs | 3. Enhances and contours the natural curves |
| 4. Versatile and suitable for various body types | 4. Offers a modern and trendy aesthetic |
| 5. Offers balance and proportions to curvier figures | 5. Available in various rises and lengths |
| | |
Bootcut vs. Skinny Jeans: Comparing the Fit
Fit and Silhouette
Bootcut jeans provide a more relaxed and balanced silhouette, flaring from the knees to create an hourglass-like shape. On the other hand, skinny jeans offer a slim and sleek appearance, accentuating the natural curves of the legs.
Body Types and Flattering Features
Bootcut jeans are well-suited for individuals with curvier figures as they provide a proportional and elongating effect. They can help balance wider hips and thighs while creating a streamlined look. On the other hand, skinny jeans tend to flatter leaner body types, highlighting slender legs and creating a modern, fitted silhouette.
Occasions and Dress Codes
Bootcut jeans are versatile and can be dressed up or down depending on the occasion. They are suitable for casual and semi-formal settings, making them an excellent choice for various events. On the other hand, skinny jeans are more casual and ideal for everyday wear, weekends, or relaxed social gatherings.
Pros and Cons of Bootcut Jeans
Pros and Cons of Skinny Jeans
Conclusion
Choosing between bootcut and skinny jeans ultimately depends on your style, body type, and occasion. Bootcut jeans provide a timeless, flattering option for curvier figures and versatile styling. Skinny jeans offer a sleek and modern look that suits various body types and provides a trendy appeal. Consider your preferences, body shape, and occasion when selecting the right fit for your wardrobe.